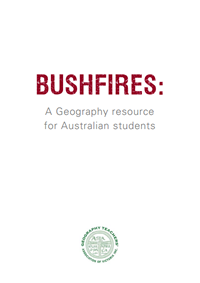 Bushfires: A Geography Resource for Australian Students
Year 8 Unit 2. Year 10 Unit 1
This downloadable PDF resource has been written and developed for Geography teachers and students at the lower secondary level. It provides an understanding of bushfire, increasing the awareness about the threat of these events to people and places. As people live and seek recreation in areas prone to bushfire, it is important that students become aware of the actions that can be taken to prepare for a bushfire, and reduce the damage and impact of such an event.
Curriculum Links
This resource uses the Victorian Essential Learning Standards (VELS) curriculum in the Humanities (Geography) Domain as a basis of development. The Humanities in Prep to Year 10 involve the study of human societies and environments, people and their cultures in the past and the present. Geography is the study of physical and human environments from a spatial perspective. It provides students with the knowledge and skills to observe and describe places on the surface of the Earth and to analyse and provide explanations from a spatial perspective of human and physical phenomena and their complex interactions.
Project Managers were Judy Mraz (GTAV) and David Williams (CFA) and the authors were Jill Price, Judy Mraz and Neil Grant.